By the end of the year, all schools will be forced to migrate to Google Chat, away from classic Hangouts. Whether you've already made the move or not, the functionality of Google Chat is leaps and bounds above classic Hangouts. Today I'm going to review 5 reasons why Google Chat elevates your messaging experience and you'll wonder how you ever survived in classic Hangouts.
#1 Threads: This improvement alone is worth the switch. Those in the Collaborative know I use this phrase often, but this truly is a game-changer. Why? The main reason, in my opinion, is because you can have more than one conversation at the same time or at different times.
Take this scenario. Your technology team uses chat to discuss issues users are having. Typically, there's more than one issue happening at a time. If not, I want to join your technology team! Without threads for different issues, there is one long stream of chat about everything. However, with threads in Google Chat, you can keep each issue in its own container (thread). This allows for more efficient communication, allows people to easily go back and take part in the conversation if they were away, provides the ability to follow or unfollow, and, as a side benefit, it makes searching for past conversations so much easier.
#2 Search:  Piggy-backing off of the previous reason, if you maintain good thread control, it will allow you to more easily search for past discussions. The following GIF shows how to search Chat within your Gmail interface, but if you're in the stand-alone app it will be at the top. You can't miss it.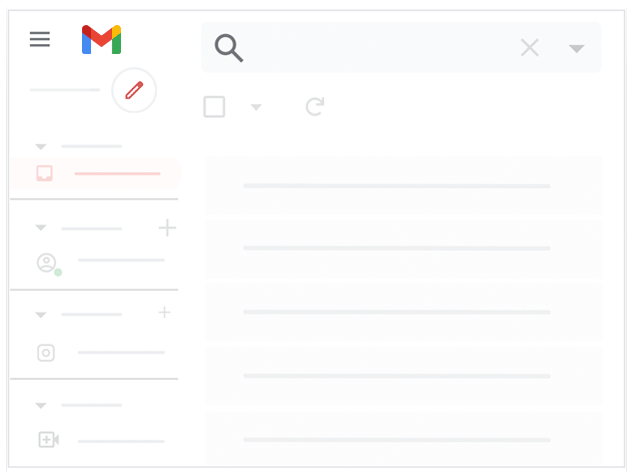 #3 Forward to inbox: If you haven't dipped your toe in the messaging pool and keep email as your main way to communicate and work with others, you may be hesitant to change up your workflows and feel as though you may miss stuff. For you, I introduce the great Forward to inbox feature. If there is a message that you would rather take to email you can hover over the message, click the email icon, and that thread will be sent to your inbox. For a full explanation check out a blog post I did earlier this year.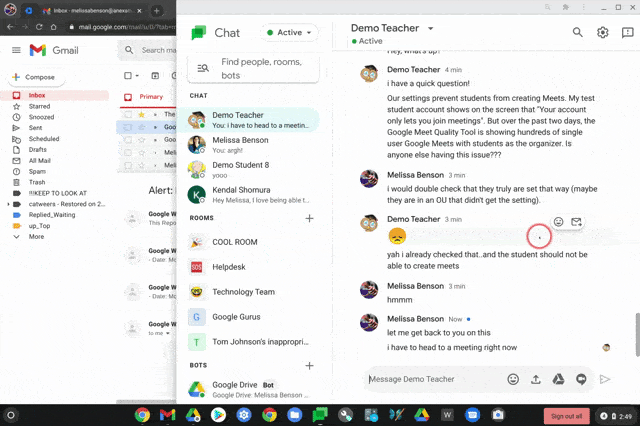 #4 Custom Away Messages: Okay, I'm going to get a bit nostalgic on this one. Who remembers those awesome ~~~*Away Messages*~~ which may or may not have included song lyrics. And you may or may not have been sitting right there still, eating your after-school snack. Just me? Okay, well Custom Away Messages are back and they have a very useful function.
Scenario: I have a huge presentation coming up tomorrow and I need to be heads down and focus on this presentation. I want to give my colleagues more than Do Not Disturb.
Custom Away Status enters the Chat. By navigating to Status menu > Add status you are able to add in a status, emoji and configure the time the status expires.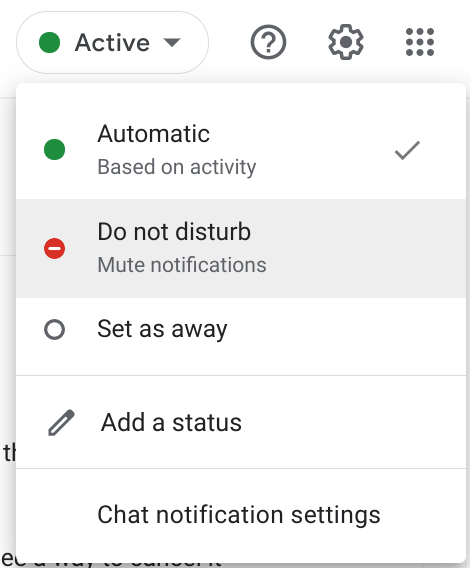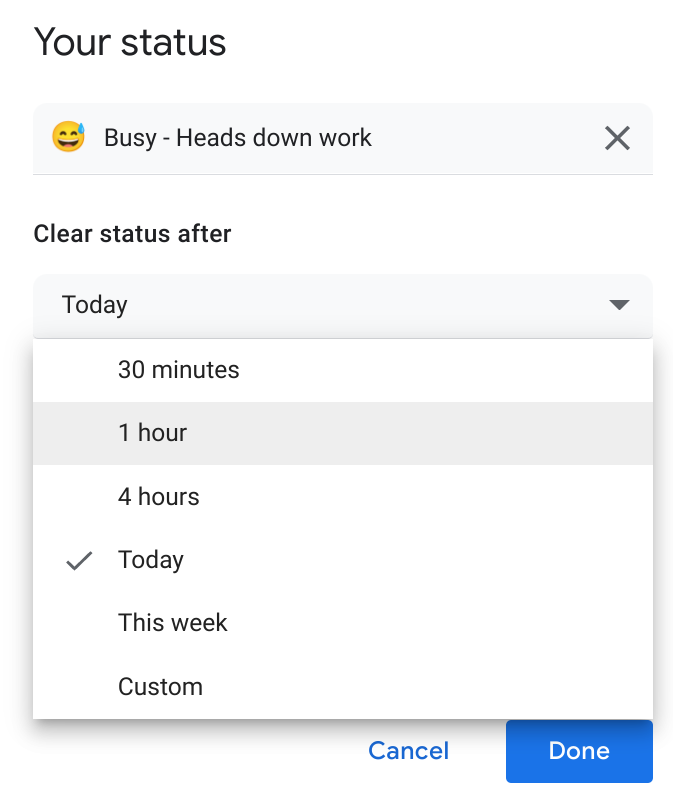 #5 Customize notifications: Finally, there are many flexibility options in regards to when, how often, and for what types of updates you want to receive notifications for. To get started on your notification configuration, check out Google's help documentation on this feature. 
While change is never easy and we all have our preferences in workflows, I hope that at least one or two of these reasons catches your attention and you try it out. The migration from classic Hangouts to Google Chat was a game-changer for my everyday productivity because of these improvements. Weren't aware of these functions? It's hard to keep up. If you want help with that, check out the Google Technical Collaborative, a group of k-12 Google Admins that meet every month to keep informed of these new features.