Do you know what's really difficult to do as an IT Administrator? Trying to stay up to date with Google changes, during a pandemic, in the Summer and Fall. If you're a Google Workspace Admin, you know staying up to date isn't as easy as subscribing to the updates blog.
In this post, I will review 8 of the (still very) relevant updates Google rolled out in the last 3 months. Let me rephrase, I will review the updates but more importantly, I will discuss the impact the update has on your domain, actions Google Workspace admins should be taking, and use cases where relevant.
Google Meet Updates
It was hard to not include more Meet updates but I chose the ones that are having unintentional issues or disruptions. If you're looking for a Meet Roadmap and Timeline, check out my Anywhere School Event Recap post.
(1.) Google blocked anonymous users from joining Google Workspace for Edu Meets
Summary
Anonymous users (users not signed in to a Google account) can no longer join meetings organized by anyone with a Google Workspace for Education domain. This does not prevent users from dialing in by phone.
Impact
This addresses the problem of students sharing the Meet link publicly (or to themselves) causing disruptions with access requests.
Problem:
This will cause an issue if you use Meets with your community (school board, community sessions).
Actions
There is no admin setting for this feature. Admins can request to have the feature disabled by contacting Google Support (it will be a global change).
Many of our Collaborative members want the ability to turn this ON/OFF per OU within the admin console. We're directing admins to upvote
this feature request
on the Cloud Connect Community (you must apply to get access).
Summary
With this update, users who have been "removed" from a Meet are not able to knock or rejoin that same Meet. This update intended to decrease the distractions of unwanted users trying to continuously get in.
Impact (creates a problem with students rejoining)
While the update did decrease distractions from unwanted users trying to get in, it's now causing issues with students rejoining Meets. Problem: Many teachers are "removing" students at the end of the class. Then, when the student tries to rejoin later, they're not able to rejoin the Meet.
Actions (possible solutions)
Teachers can use the invite function within the Meet to allow the student back in.

Teachers can change their workflow to not "remove" the students at the end of class.

Teachers can "reset" their Classroom Meet link.
Note: Teachers shouldn't get too attached to their new Meet workflow – there are upcoming moderation controls to be released which may yet again require a new workflow.
Summary
Google announced Temporary Recordings during the Anywhere School Event. When Temporary Recordings are released "later this year" — Any meeting host can record a meeting and share the recording within their domain for up to 30 days before the video expires. This is for all education domains.
Impact
This is an important update because schools are still getting the premium Education Plus recording feature only until Temporary Recordings are released. When released, non Education Plus domains will switch over to this new type of recording and teachers will experience a different recording behavior.
Actions
Google Workspace Admins need to be aware of this change and be on the lookout. If you are an Education Plus customer you need to make sure you have assigned Staff licenses – if you don't then they will get dropped down to the Temporary Recording feature.
Summary
This one combines a few updates. To keep it simple, Google Chat and Classic Hangouts merged into one service and the Meet service is now totally separate from the two.
Impact
Now you can turn off Chat/Hangouts for students but leave on Meet. Previously, the services were combined so you had to keep on Chat/hangouts for Meet to work.
WARNING: If you turn OFF Hangouts, it will break the ability to use the g.co/meet/nicknamehere method of creating and accessing Meets. The reason for this is that approach is using the Hangouts service (check out the URL it redirects to).
Warning: If you turn OFF Hangouts, it will break the ability to use the g.co/meet/nicknamehere method of creating and accessing Meets. The reason for this is that approach is using the Hangouts service (check out the URL it redirects to).
Action
Caution: Determine if your teachers and students use the "g.co/meet" method of creating and accessing Meets. Then, you can decide if you want to turn off Chat/Hangouts for users.
Navigation
Google Workspace Apps > Google Chat and Classic Hangouts > Click on the top, right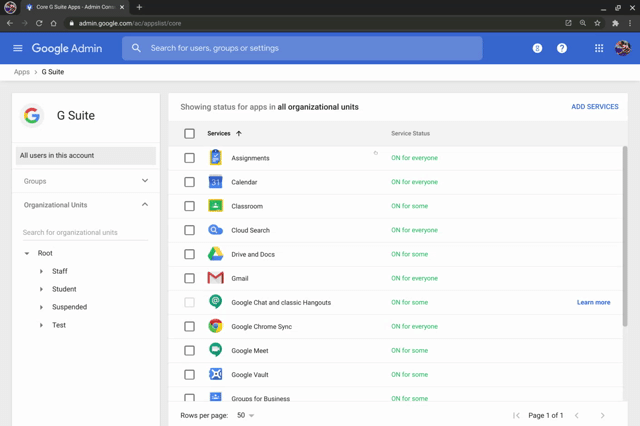 App Access
Summary
Admins can now block apps that use OAuth 2. 0 via API Controls (formally called API Access).
Impact
Previously, admins could only utilize the API Access Controls by disallowing all apps and then maintaining a trusted list — this was hard to manage so not many schools used it. You can now just block the high-risk apps, without making a drastic and disruption change.
Use Case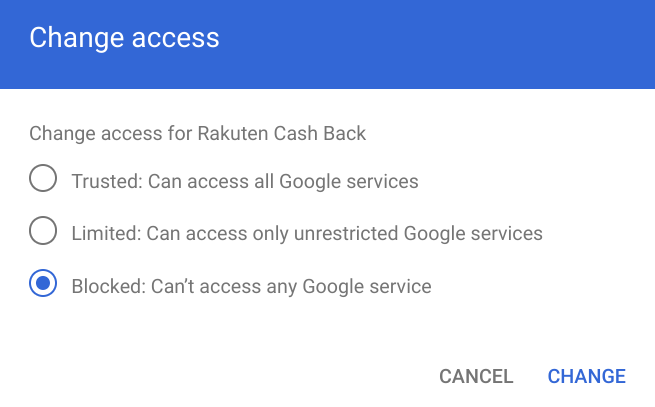 You see users are installing TikTok. You block the TikTok app via API Controls & users will see a custom message when they try to install it (authenticate in).
Navigation
Security > API Controls > Manage Third-Party App Access > Hover over app > Change Access
Note: If you know the client ID you can proactively block an app.
Classic Sites
Summary
In Google's latest timeline, Classic Sites will go away at the end of 2021 but it's important to check out the other milestones that happen before then. What is most exciting though, is Google Workspace admins now get a cool, new tool to easily view, change and migrate Classic Sites.
Actions
We recommend that domains disable Classic Site creation

Communicate to teachers about the timeline

Use the Classic Site Manager to view sites, email owners, migrate, delete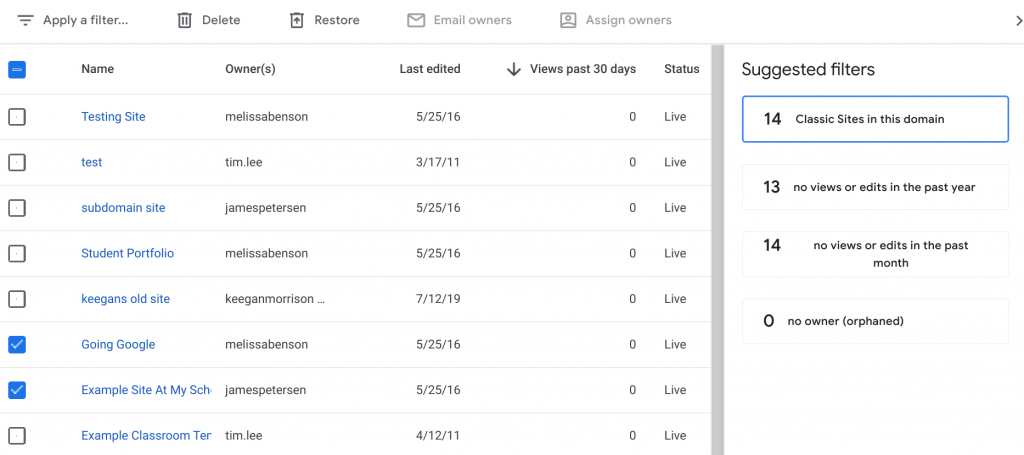 Folder Sharing
Summary
Folder sharing in Shared Drives is now rolling out to everyone (Generally Available). Previously, it was only available in Beta. This means if you want to share a folder or set permissions on that folder differently for users, you can (previously, all permissions were set at the Shared Drive level only).
Impact
One of the most popular feature requests, users are now able to give different sharing rights on folders within a Shared Drive. This could change the way shared drives are structured and created.
Actions
This new ability will automatically be rolled out to all users, there is nothing to "turn on".
Devices
(8.) Chrome: remotely clear user profiles and factory reset Chromebooks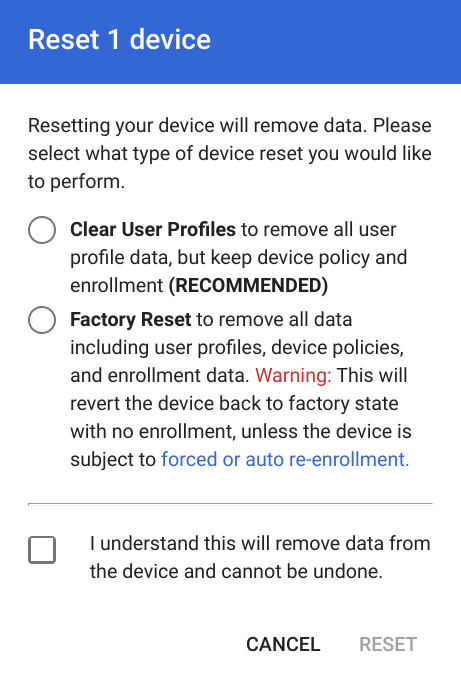 Summary
Google Workspace admins are now able to remotely "clear user profiles" and "factory reset" Chromebooks. This can be done for an individual device or in bulk. We started seeing this feature show up in the Admin console back in Chrome v84.
Impact
With distance learning, this new feature has been a Google Workspace Admin's best friend. We all know that most troubleshooting of Chromebooks ends with a wipe and now that is possible remotely, in real-time, and in bulk.
This is in no way a complete list of the important updates from the last 3 months but ones I feel like every Google Workspace admin should be aware of. If you feel like this type of information would be helpful to you and your team, learn more about the North American Google Technical Collaborative or watch our August Updates stream, which we've opened to the public.
While this post focuses on the Updates benefit of the Collaborative membership, there is also an amazing online forum that 2,000+ Google Workspace admins participate in and members also receive discounts on our services and our partner services. Don't Google Workspace alone – join us!
About the Author

Melissa Benson, Google for Education Technical Collaborative Lead
Melissa has been a Google Workspace for Education Consultant for CDW Amplified for Education since 2015. She began working with the Google for Education (GFE) Admin console in 2008 where she helped implement and integrate Google Workspace and Chromebooks into multiple K-12 school districts. Now, as part of the CDW Amplified for Education Team, she continues to help schools set up and manage Google Workspace environments with educational best practices with an emphasis on facilitating the North American Google Technical Collaborative.