Welcome to the new student Collections experience: A powerful new feature to help delegated users create customizable groups of students where they can monitor their classroom metrics at a high level in a group setting.
So whether you're a principal, assistant principal, counselor, or support your school in another role you can see classwork performance without having to navigate all over the place. Think about it, if you want to see how your AP students are doing with their classwork you could build a Collection just for them or if you wanted a Collection based on individual learning plans, you can do that too. The possibilities are endless!
Once a Collection is created, Collection data and individual student data are navigable within the Collection. 
Little SIS for Classroom's new student Collections feature empowers delegated users to effectively and flexibly gain visibility into a Collection of students via:
A student-centered experience: Student Collections appear together in an intuitive and clear interface

Scalable organization of student data: Build and manage multiple Collections in ways that make sense for each delegated user

A launchpad for new functionality: Upcoming features and enhancements will be built on Collections
It is important to point out that Collections do not change where any data resides. The feature simply introduces a new way for you to manage and drill-down on that data.
Neatly arranged Collections
Student Collections appear together in an intuitive and clear interface. Collections are where Collections are created and where students are added to and removed from Collections. Actions for the Collections can be easily accessed via the Collection card. To keep your Collections tidy and organized, users can create up to 12 Collections, each containing a maximum of 250 students. Delegated users are encouraged to structure Collections in a way that makes sense to them.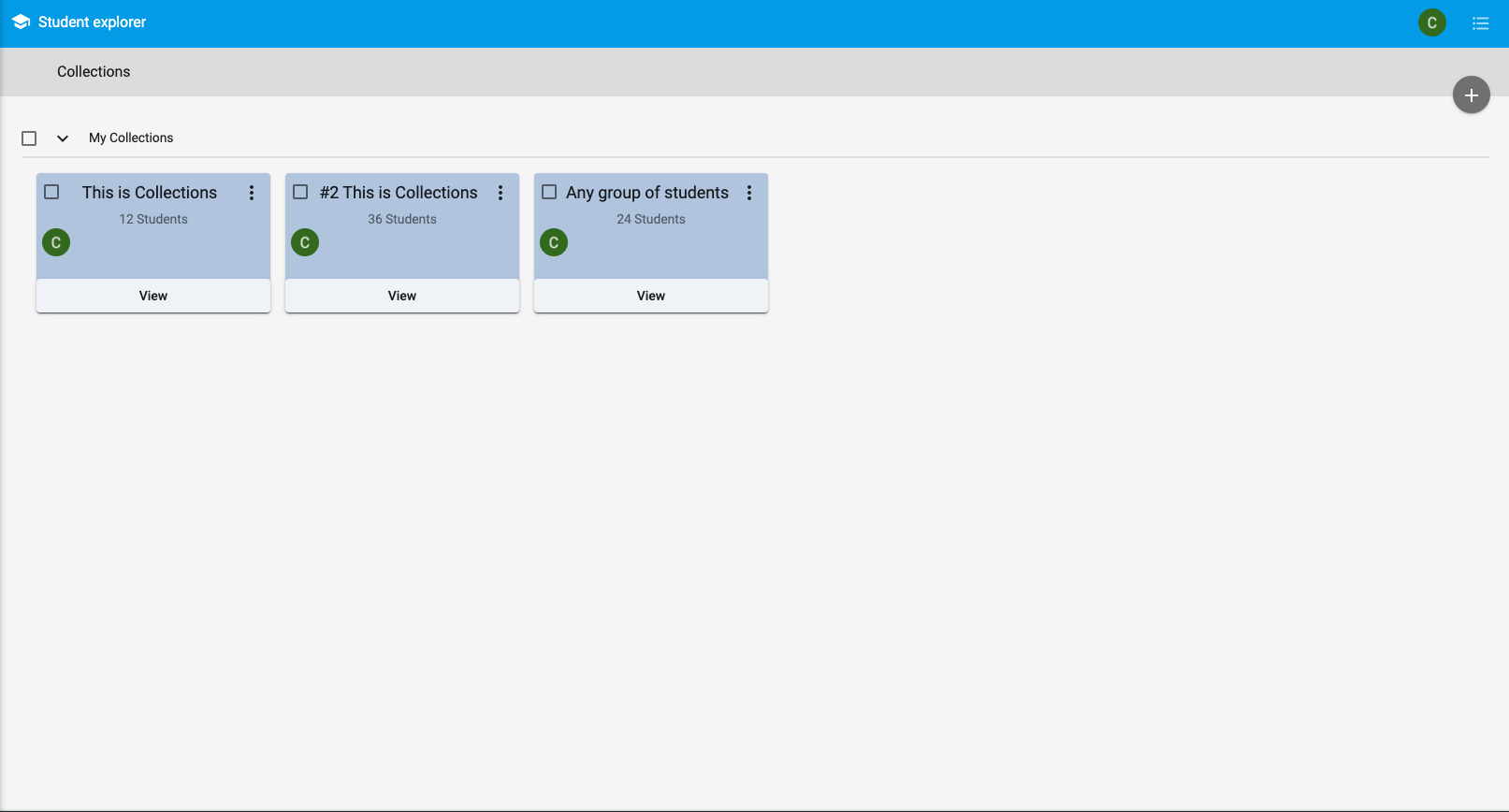 From Collections delegated users can:
View existing Collections

Super admins can see all available Collections

Delegated users can see only Collections they have created

Create a Collection

Add students to a Collection

Remove the students included in a Collection

Refresh Collections

Select a single or all Collections

Edit, view details for or delete Collections via a menu for each collection
Refresh Collection data
Once your Collection is built, the data will refresh nightly. A refresh is available to gain real-time data in the interim.
Easy navigation between individual and aggregate data
Move conveniently from whole Collection data to data for a subsection of the Collection and down to data for a specific student.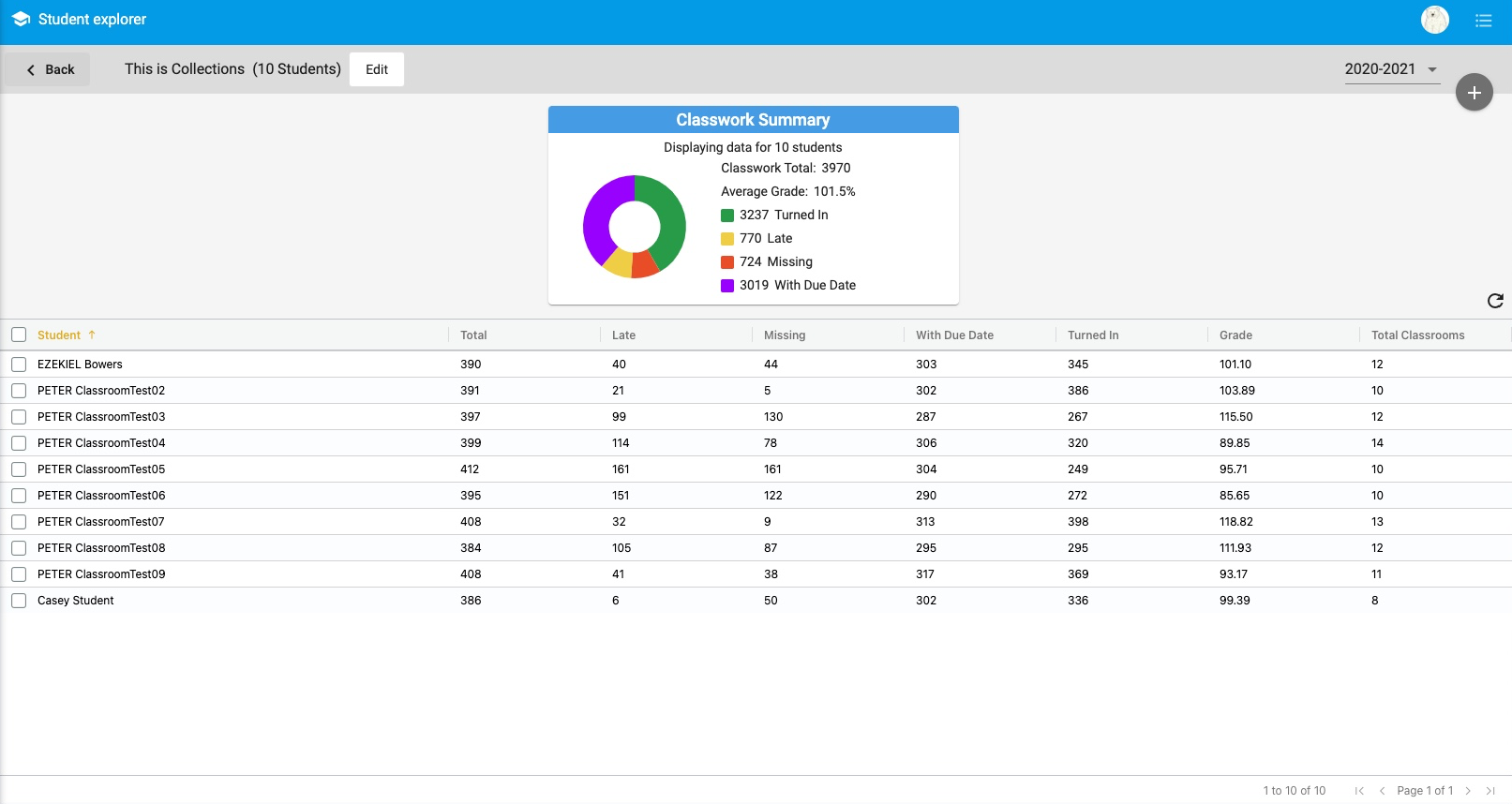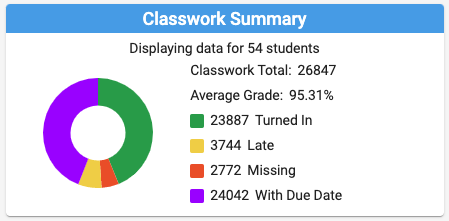 From the Classwork Summary users can:
View aggregate data for students in a Collection individually or as an entire Collection

Filter aggregate data by this week, last week, last 30 days, and last 60 days so you can look at anything in the future

Open a single student view for any student in the Collection directly from the Collection

Select specific student's within a Collection to dive deeper into aggregate data for only those students
Start with Collections, when you are ready 
Change can be hard, but Collections is worth exploring. Collections is a permission-based feature. You do not need to grant access to every delegated user nor is this feature automatically available to your users upon release. This allows you time to plan out which users you want to be able to create Collections. When you are ready, 
Enable the View and Manage Collections permission for all the roles you would like to have access to Collections in Little SIS for Classroom

Let your delegated users know what Collections are and that they now have access  
After that, they now have everything they need to build their Collections. 
---
About the Author

Lorrie McConnell, Technical Writer
Lorrie was born and raised near Pittsburgh, PA. She is a proud graduate of Slippery Rock and Chatham Universities. She holds degrees in Business and Professional Writing. In her role as Technical Writer, Lorrie adds clarity to all things CDW Amplified for Education. She continually looks for better ways to explain the 'how' and 'why' for our products and services. Being a Pittsburgh native, Lorrie loves all things black and gold. When she does get downtime, she enjoys family, baking, walking, and archery. A fun fact: Lorrie participated in the largest wedding cookie table which earned a Guinness World Record with 88,425 cookies!